Microsoft introduced the first product from Project Cortex: SharePoint Syntex at Microsoft Ignite 2020. What is the impetus behind this release?
What do Microsoft Project Cortex and SharePoint Syntex Mean for You?
Most organizations face challenges with information spread across multiple sources, difficulties searching for needed content, no unified way to manage information across the organization, and labor intensive and error-prone data entry and interpretation.
The COVID-19 pandemic has undoubtedly heightened these challenges.  Users are more geographically dispersed than ever, many organizations are striving to do more with less, and the explosion of Microsoft Teams has created yet another source of information that can easily go ungoverned. How does Project Cortex address these challenges?
What is Project Cortex?
Project Cortex applies advanced AI to your data to organize your content and save you time in managing information.  It acts as a knowledge network between your Microsoft 365 applications, such as SharePoint, Outlook, and Teams.  In a nutshell, Project Cortex delivers knowledge and data from your content to improve the quality of your time.
How Does Project Cortex Work?
Building on the leading content services of SharePoint, Project Cortex lets you connect to external systems and repositories, use advanced AI to automate content capture, categorization, and management, and protect information with intelligent security and compliance.
Let's take a closer look at Project Cortex's first product release: SharePoint Syntex.
What is SharePoint Syntex?
SharePoint Syntex is the first product released under Microsoft Project Cortex and is available for purchase October 1, 2020.
SharePoint Syntex uses AI to enhance your content management in three ways:
Content Understanding:
Create no-code AI models to classify and extract information from your content and automatically apply metadata for knowledge discovery and reuse.
Content Processing:
Automate the capture, ingestion, and categorization of contents and streamline content-centric processes using Power Automate.
Content Compliance:
Control and manage content to improve security and governance with integration to Microsoft Information Protection.
How Does SharePoint Syntex Work?
SharePoint Syntex' uses machine Training to understand your SharePoint content without the need for code.  It uses two types of AI to understand your content: forms processing functionality is used for semi-structured data such as any handwritten forms. Document understanding is used for unstructured data.
The machine training is simple:  A user will create a classifier model by uploading a few postitive examples of a particular document, and at least one negative example that does not fall into that document type.  For example, you could upload five contracts, and one health insurance form.  The user labels each of these documents as either positive or negative examples.
Then the user will extract key words or phrases in a few of the files.  In the example of contract documents, these key phrases could include names of the contracting parties, initiation and expiry dates, and so on.
Once this is complete, the user can run the classifier model to confirm whether SharePoint Syntex has correctly identified the document type (e.g., contract) and key phrases within the content (e.g., names and dates).
When you are happy with the results, classifier model can be configured to extract all the key phrases to a SharePoint list, which will store all the required metadata. These lists can trigger Power Automate workflows to process the information in whatever way is needed – unique to your business requirements.
A classifier model can be run on multiple SharePoint libraries, and multiple classifier models can be run on a single library that includes many kinds of content.  SharePoint Syntex' machine training works on Office documents, PDFs, and images.
Why Use Project Cortex and SharePoint Syntex?
Time is one of our most valuable commodities.  Project Cortex is centred on using AI to give you time back.  You can use the innovation of SharePoint Syntex to eliminate the manual management of content, remove human error, make information more searchable, and apply governance and compliance.
Ready to Learn More?
Want to see a demo of Project Cortex in action? Interested in how you can integrate SharePoint Syntex into your existing environment and processes? Curious about the licensing implications?  Our experts are ready to chat!
The Author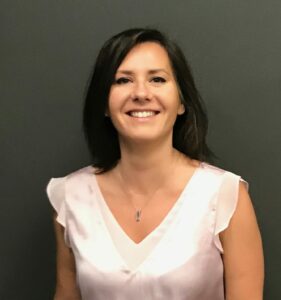 Amy Grendus, Director of Marketing and Business Development
Amy is a results-focused marketing professional with over eight years' experience working closely with sales teams to provide effective solutions to customers.