Sitting down in a conversation with Lawrence Pernica, one of our Solution Specialists at Elantis, is always a blast. I had the chance to talk to Lawrence about the career path that brought him to Elantis, and the lessons he has learned about himself and the IT industry along the way. His passion for life and for new experiences emanates from all his answers. Lawrence reminds us not to take life too seriously and to make the most of opportunities as they come your way, and we are thrilled to know that his "go-with-the-flow" mentality led to him being a vital member of our team!
Amy Grendus: Can you describe what you do at Elantis?
Lawrence Pernica: The thing about working at Elantis is it's always changing, which is great if you always want to learn new things. I came in and started doing business process automation (BPA). When I started, my whole world was one large client, and I didn't know anything else. I worked on Nintex and doing BPA projects for nine months straight, maybe longer. Now, some of what I do is BPA and some of it is documentation, then some of it is SharePoint or records management. Since Elantis is also getting into other platforms for business process automation, as well as migrations, the job is still evolving along with Elantis' services.
The benefit of this is that you get to gain a breadth of experiences in so many different areas. You have the freedom to explore, train, and do all kinds of different things to find out what you like and what you don't like. At Elantis, you are the opposite of pigeon-holed. Like the world is your pigeon-ey oyster!
Amy: You've had an interesting career path because you came from a non-IT background. What experiences led you to working in IT?
Lawrence: The entire path of my career is almost exclusively based on recognizing and accepting opportunities. For example, I was good at math in high school, so I just said, "Okay, I'll do a math degree." And I never really questioned whether or not it was something that I necessarily liked. When I graduated, I couldn't find any work. It wasn't a degree that said, "Now you can do this one job," it was just like, "You can do hundreds of jobs," and I've always had trouble narrowing that down. I ended up working at a public library, and I really liked it! I eventually climbed up the ranks until it was time to get my Masters in Library and Information Studies, so I did. As my time in libraries progressed and my roles evolved, I realized what I liked most was organizing websites and figuring out ways to make information more accessible and browsable.
Eventually, Rhia Wieclawek—an old friend of mine and now a colleague at Elantis—told me about her work here at Elantis, and said they might be looking for more employees. I was confident that I could do the role, but I didn't really have a baseline. I had no way of indicating whether or not I could or couldn't work here, but it just sounded interesting. I basically said, "Sure, I'll try it." So, my career path to Elantis is a winding road of me accepting new opportunities with optimism and an open mind.
Amy: You mentioned Rhia [Elantis' Business Process Automation Practice Director]; was there anyone or anything else that influenced you or inspired you to move toward technology and ultimately toward working at Elantis?
Lawrence: Rhia was my introduction. I know one of the things that definitely put my mind at ease was when I met with Elantis' CEO, Dave Roe. I was very hesitant, since one of my priorities in terms of my career path is not to end up in a position where I'm going to be out of work. Spending so long in the public sector came with a sense of job security. Jumping to a company of Elantis' size was a bit of a risk for me because I didn't know how long this company was going to be around, and I didn't know how it was run. Dave and I ended up talking at a Starbucks for an hour and got to know each other. I came out of that thinking, "Yeah, I could work for this guy. He seems to care about the people that he employs and seems to care about the culture and making sure that everyone under his purview is taken care of." Those two aspects sort of pulled me into the role.
In terms of technology in general, I think it's an age thing too. As a millennial, I grew up without technology and then sometime during my pre-teens to mid-teens the internet really exploded and became a thing. We've been alive through this huge modern transition of technology. I think our generation specifically was almost genetically engineered to be drawn to technology. I'm not saying everybody our age is but seeing the evolution of so many technological wonders, it's hard not to be.
Amy: Have you faced any challenges in your career or in your role and how have you overcome them? Could you share some lessons you've learned?
Lawrence: Any of the challenges that I've ever faced have really come down to honing soft skills or having enough introspection and self-awareness to know what I want to do and what I don't want to do. I think back to moments in my early twenties on co-op stints that I did when I was doing my undergrad degree—they would be four-month positions at various organizations and government departments. I would look back on them and be like, "I really messed that up." It wasn't from any particular lack of skills, it was just from a lack of knowing how to either work toward the skills that I needed or just not having the interest or the investment in doing it.
I would often find myself doing things that I was told to do without thinking about them. I eventually learned to take a break, at least to say, "Is this the best way of doing this? Or is this a smart thing to do?" To not waste time doing something that you didn't even think about before everyone realizes it's a bad idea. So, I guess the biggest lesson I've learned is to have more professional self-awareness and confidence.
Amy: Can you share what you enjoy most about working in technology? What gets you excited to get out of bed in the morning?
Lawrence: I think it's just the uncertainty of it. There's a good combination of tasks. Technology is always changing and, if you want to learn, it's endless. You're never going to get to a point where you know everything you need to know. So, if you're afraid of working a job that's going to get stale, technology is the best place to be because there's always something to pivot to. There's always something new that comes out, or something old that gets decommissioned or is no longer supported, and is replaced by something else that you have to re-learn.
I like a balance between new things and old. At Elantis, I can sort of tailor what I want to do, because I feel like if you do new stuff for too long, you're probably going to burn yourself out and if you do the same thing for too long, you'll just get completely disengaged. I just like the variety.
Amy: Do you have any proud moments or accomplishments that you would like to highlight?
Lawrence: I did a project in either my third or fourth year at University of Waterloo—my degree was in Combinatorics and Optimization—and most of it was theoretical. You're learning proofs, you're learning theorems and applying it. For one assignment, an elementary school principal came into our class. The whole thing was about getting a set of criteria because every school year he had to manually create the class schedule to satisfy a whole bunch of different constraints for different teachers. He balanced everything manually every single year. It was the professor's idea to bring him in and have us create a program. We would literally write software that would input these constraints and output the optimal schedule for his staff. I got so invested in the project and I just wanted it to work. I was thrilled by the potential of building something that could automate this onerous process for this one man. I put so much extra time into it, and I had to see if there was another way we could improve it, make it better, and help him out. Just the thought of building this thing to make his life easier was a great feeling.
Amy: Do you take that sense of pride with you in the work you do with other clients?
Lawrence: I do! I really do. One example that comes to mind is the automation we built for Capstone Mining's AFE process. It was a massive undertaking and the scope kept growing. I think it started off being one thing, and it ended up growing into much more. I mean, that thing was built on over 40 workflows and a Power App that we put together. I was trying to juggle how this workflow process would map itself out, because at the time Power Automate and Power Apps were really new. I've never worked that hard on so many workflows at the same time. The result ended up being something really cool.
Amy: What's next for you in your career? Where do you want to go?
Lawrence: I don't know. I mean, that's a core aspect of my personality. I've never known. I just kind of think, "I don't know, that's up to fate." But I'm happy here at Elantis.
The Author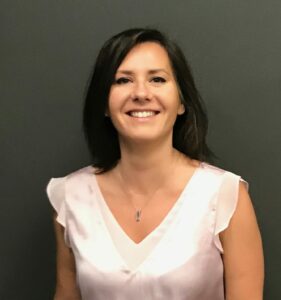 Amy Grendus, Director of Marketing and Business Development
Amy is a results-focused marketing professional with over eight years' experience working closely with sales teams to provide effective solutions to customers.