March is Women's History Month, and at Elantis, we don't need to look far to find talented women contributing to the tech community.  We sat down with Rhia Wieclawek, Elantis' Director of Business Process Automation to learn how she got into a technology role, how her hobbies have contributed to her career, and what gets her out of bed in the morning.
First, tell us about your role.
I'm the Director of Business Process Automation for Elantis. However, I would say that my role is really more a combination of a senior solution architecture, a big chunk of engineering technical sales – assisting with estimates and scoping, getting all the industry news and understanding the newest best practices, community involvement, and a bit of development when I'm lucky. My role also includes some team and project management.
How did you get to where you are today?
The first thing I would say is that I have no university education, which makes me sort of a weirdo in the space that I'm in right now, and I take pride in that. I got to where I am because I worked really hard.
At a previous company, I was a Filing Clerk and Administrative Assistant. I tried my best to bring everything into Excel and then I started learning how to build macros. From there, I built Excel calculators and things like that, just figuring it out on my own time. Then I went to another company and they were using SharePoint, but no one knew how to use it, and no one liked it. I looked at it like, "how can this application be so hated yet used so many places?" So I started learning about it. That's where my SharePoint career took off because I was suddenly the only one who knew anything about it. People started coming to me and it wasn't long before I got promoted into a solution delivery role.
Did you always have an interest in technology? Did you intend to pursue a career in tech?
I actually never considered it, that's why I find it so strange that I've ended up here. Growing up, I always assumed that I would be an Executive Assistant. A lot of me still wants to create that automatic Executive Assistant and I feel like that is a lot of what we do with technology.
One of the other things that is notable about me is my typing speed. I learned that when I was younger, because I've been a huge nerd my whole life and I played something called a Multi-User Dimension or MUD, which is a text RPG. If you didn't type fast enough in the game, you died. And that's the only reason I type as fast as I do right now. That is actually what got me my very first job in data entry. So no, I had no inclination to go towards technology at all.
Was there something that influenced you or inspired you to change your career path and pursue technology?
I'm not sure if there was any one thing that changed my mind, but I got into a situation where I realized that this might be a possibility. At the very first company I worked at, one woman really supported me, and she would look at my Excel macros and talk to me about what was possible. I was a young, fresh twenty-something in the industry and this woman was helping me out. I just suddenly felt like, "hey, maybe this is something I can do."
I really enjoyed solving problems using technology because all around me I could see people doing the same things over and over again. And I like to say that one of the best traits to have in technology – especially process automation – is laziness. Because you try to automate as much as you can so you don't have to do that work again. That taught me a lot.
What advice you would give to your younger self that you wish you'd known about a career in technology?
I wish I would have gotten into Microsoft technologies a lot earlier and I really wished that I would've gotten into some form of coding information. I think it would be really advantageous even as someone who works with low code/no code solutions to know a little bit just for what I needed. I wished I would have done that a little bit earlier in my life.
Technology moves so fast, how do you keep up to date?
Twitter is a big driver for me, and I follow a lot of technology-related Subreddits. But Twitter has been great because I have amassed people that I follow: they' re MVPs, they're Microsoft employees. So not only will I see the releases of new functionality, I also see what people's opinions are of it, what they're running into.  It also lets me interact.
As an example, yesterday I submitted an issue I saw with the Microsoft forms webpart for SharePoint modern. And someone I met from an Office365 user group who works for Microsoft jumped on it and they're now working on that. It's really great how that community gets together, and they educate each other and give feedback.
You mentioned your hobbies in gaming; are there other hobbies that have influenced or benefited your career?
Yes, I paint and I draw whenever I have time. This actually helps me a lot when I'm doing user experience or user interaction on forms and sites or putting colors together. It's amazing how often you can have the best app of all time, the best functionality, great navigation, but if it's not colored well, if it doesn't look attractive, people don't like it. So that's been another small thing that helps the team. Being able to jump in and give that feedback and have that kind of eye, it works so well.
Do you have a friend or a mentor that inspires you?
As mentor, my dad. He got me into computers, and he started the same way I did – he mostly did it for video games and he was the guy in 1995 or 1997, sitting down with Excel and doing his accounting. I learned a lot about computers through him. Even today he's making YouTube videos and he's still very active on computers. I got a lot of that from him.
Otherwise I would say that there's so many business process automation community members that I look up to: Jon Levesque, Melissa Hubbard, April Dunnam, they're all just power houses of the Microsoft Power platform.  And then there's the Nintex folks as well – the Nintex vTEs have been amazing. Have you seen how many people I follow on Twitter? [laughs] About 40% are SharePoint, Power Automate, and Nintex.
Are there any other resources such as websites or books that you've found helpful in your career in tech?
Yeah, community.nintex.com – that's how I learned Nintex. I bring this up every time I talk about it, you don't need anything fancy to learn Nintex. You can go into the Nintex Community and you can learn from there for free.
Otherwise I've learned a lot from, slideshare.net. Just go in and type what you're looking for. What I find valuable about this is that I can see slides and presentations done by a variety of different people in a variety of different styles and choose what suits my learning style. It also means that if I don't understand one, I can go to someone else's and see if that makes sense. I download these a lot and I'll read them on my commute or if I'm travelling.
Do you want to talk a little bit about how you balance your work with your personal life?
I don't think that's a good question for me – I'm not good at it [laughs]. The reason I'm not good at it is that I feel a sense of friendship or attachment to clients and I really want to please them. A lot of times I get myself into trouble doing that because I feel like I'm letting them down if I have to push schedules out. I feel guilt really easily.
Those are common challenges. Do you have any strategies that have helped you to mitigate that?
Talking to Doug Kyle [Elantis' Director of Service Delivery]; he's my therapist [laughs].  It's making sure that you have someone you trust within your organization that you can talk to just to get unbiased feedback.  You might not take it well at first because you're still emotionally attached to a project or a client in whatever way, but it's good to have that person to bounce ideas off of.
What would you point to in your career as a highlight or an accomplishment you're most proud of?
My first speaking session in New Orleans for Nintex InspireX conference in 2017. That was my very first large public speaking. I was terrified and I think that was the moment when my imposter syndrome got a little bit quieter – people were there to hear me speak. I did a good job; I knew what I was talking about. That was a really good switch for me to say, "you know what? Yeah, I belong here."
What do you wake up in the morning looking forward to doing? What gets you out of bed and into the office?
Yesterday I jumped out of bed thinking about messaging the keynote speaker for SharePoint Saturday Vancouver. Being involved with that event was really interesting. I love event planning, especially for the technology community.
I also really look forward to putting pages together and being able to show them to clients. For example, today a client's new intranet was ready to present to them. It was the first time they saw their intranet, and they were really, really happy. I was looking forward to that today. It's so awesome showing clients the work we've done. I also really look forward to doing documentation.
What do you enjoy most about your career in tech?
The new technology coming out. Every time something new comes out, it blows my mind. It never gets old. For example, as soon as I found out about form recognition coming out of Microsoft's AI platform and how easy it was when I tested it out, I was so excited – that feeling never goes away. And I know that they're working on an RPA product as well, and I'm just like a kid at Christmas, waiting to see what that's going to look like.
Want to learn more about Elantis' talented women in tech?  Check out our posts featuring Elantis' Business Process Automation Team Lead, Christine Mikhaiel and Elantis' Director of Marketing, Amy Grendus.
The Author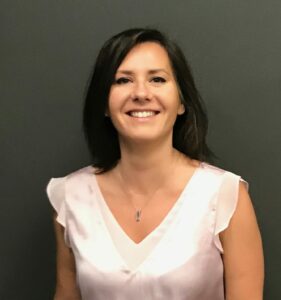 Amy Grendus, Director of Marketing and Business Development
Amy is a results-focused marketing professional with over eight years' experience working closely with sales teams to provide effective solutions to customers.