First things first – what are the digital transformation trends shaping 2020?  According to MuleSoft's Connectivity Benchmark Survey, the digital transformation priorities coming to the fore in 2020 include:
Connecting the consumer experience.
Data-driven business.
Artificial intelligence and machine learning.
These results are based on data collected from over 850 global IT leaders, 9,000 consumers, as well as third party findings.  Let's unpack a couple of these digital transformation trends for 2020 and understand where you can stay ahead of the technology curve.
Connecting the Consumer Experience
According to the survey, 71% of IT decision makers say that customer experience is a top digital transformation goal.  Further, 93% of business leaders say delivering a relevant and reliable customer experience is critical to their company's over business performance.
What are the obstacles to creating a truly connected customer experience?  Organizations surveyed had an astonishing 900 disparate applications each, but only 29% of those are integrated with one another.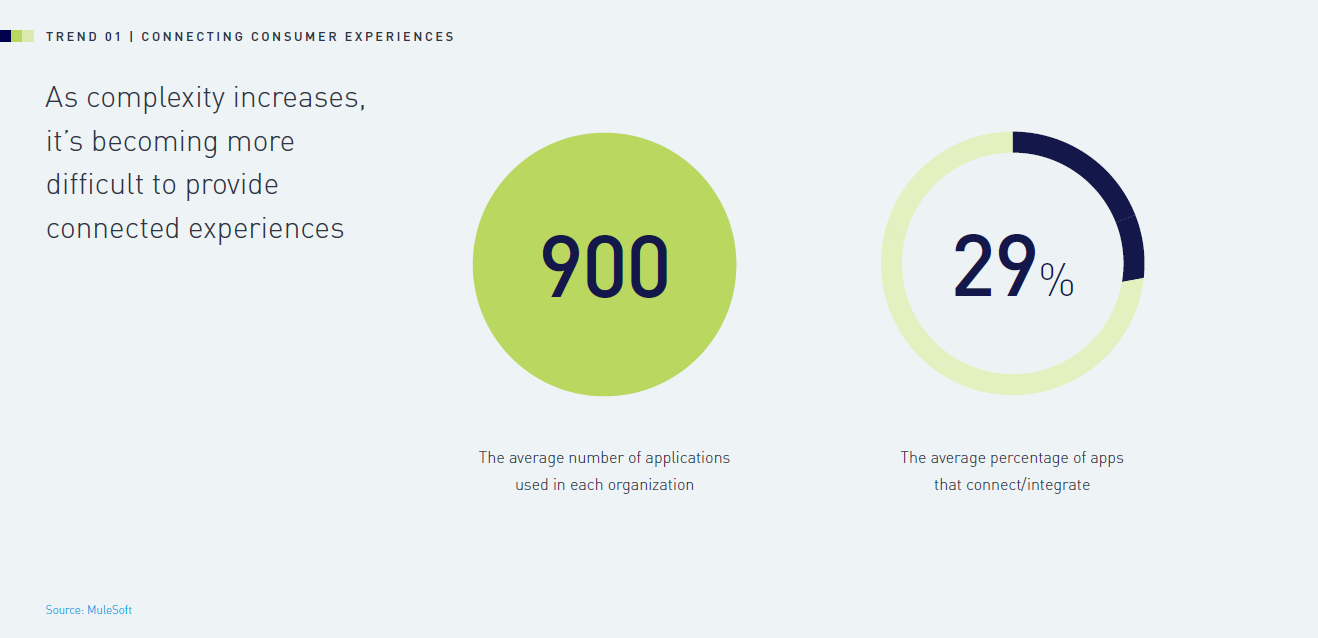 How can you provide a seamless consumer experience?  On way to help unify your applications is business process automation.  Tools such as Nintex workflows and Microsoft Power Automate (formerly Flow) can streamline your customer interactions through integration and automation.
For example, Elantis automated a customer onboarding process for Bittrex using a combination of Nintex forms and workflows and Microsoft Power Automate.  The automation integrated the data inputs into multiple systems, and dramatically reduced the time required to onboard new clients.
In fact, Bittrex reported that the incremental revenue generated from the process improvements is in the millions due to faster onboarding, improved customer experience, increased customer retention, and increased customer engagement.  Prior to the automation, Bittrex had a team of 10-20 individuals dedicated to processing customer onboarding entries at any one time. They now have just 1-3 people running this process end-to-end, saving them over $500,000 annually.
As organizations are pressed to improve efficiency and provide a more connected experience, we can expect to see a stronger focus on using automation to integrate systems – particularly those that are customer-facing.
Data Driven Business
Gaining actionable insights from your organization's data is at the heart of digital transformation.  The Connectivity Benchmark Survey demonstrates how breaking down data silos is positively correlated with a company's performance.
In fact, over half of IT decision makers polled are investing big in data and analytics.
Using tools such as Power BI to create powerful, real time dashboards can speed of decision making and remove the guess work.  For example, Elantis created a Power BI dashboard for a large oil and gas company that allowed them to easily pinpoint where delays in construction were occurring, where revisions to drawings were required, and where contractor or head office inputs were outstanding. This information is available in real-time based on thousands of field reports and requests.  Having all this data aggregated into an easily consumable format has enabled them to more effectively manage construction processes.
No matter the nature of your business, data-driven decision making is key to digital transformation in 2020.  It helps to optimize customer service, streamline operations, and aid in quickly launching new products and services.
Artificial Intelligence and Machine Learning
Robotic Process Automation (RPA)is often considered to be the low-hanging fruit of artificial intelligence.  While it has been around for awhile, many organizations are just beginning to implement it or have yet to broadly expand its use throughout their organization.  Investments in AI are increasing year over year, and we don't expect that to slow down in 2020 and beyond.
Using RPA to improve compliance, accuracy, and remove the need for human intervention provides fast ROI, making it a key in digital transformation.  A single bot can do the work of several people, around the clock – without error, human bias, or privacy issues.
You can preview Nintex RPA and Microsoft Power Automate for free to get a taste of how RPA can work in your organization.  RPA is especially powerful if you need to integrate legacy systems that do not have APIs, and in industries where security and privacy are paramount, such as banking and healthcare.
Address the Digital Transformation Trends of 2020
Ready to get started?  Reach out to our solution architects to understand how you can advance your digital transformation in 2020!
The Author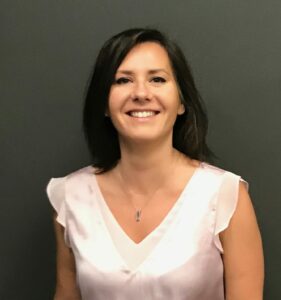 Amy Grendus, Director of Marketing and Business Development
Amy is a results-focused marketing professional with over eight years' experience working closely with sales teams to provide effective solutions to customers.